Turquoise, the December Birthstone is among the earliest protection amulets used by men.
It was considered to be a sacred stone by the ancients protective against all manners of evil and ill health. It was also known as a symbol of affluence in many ancient cultures.
A turquoise gifted by a loving friend is believed to shield the wearer from negative energy and bring good fortune. Turquoise is a symbol of friendship and brings peace to your home.
Navajo Silver Dry Creek Turquoise Mens Ring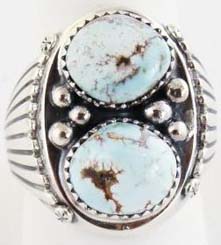 Click On The Image
Turquoise is one of the oldest gemstone known to men with color ranging from sky blue to grey green. It also happens to be a celebrated gem all over the world. The eminence gained by this opaque gem amply demonstrates that the benchmark of beauty in a gemstone need not be bound to its clarity and transparency.
The name turquoise has probably been derived from the word Turquie which is French for Turkey. It was earlier believed that the gemstone came from that country, when in fact the turquoise originated either from Alimersai Mountain in Persia (now Iran) or the Sinai Peninsula in Egypt, two of the earliest known turquoise mining areas.
The name could also have stemmed from the French description of the gemstone, 'pierre turquin' meaning dark blue stone.
Navajo Turquoise Silver Mens Ring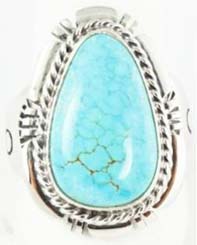 Click On The Image
Deep blue lustrous gemstones (described as robin's-egg blue) without flaws enjoy the best rankings. Such superior stones were put on by Pharaohs and Aztec Kings and can be better appreciated in antique turquoise gemstone necklaces.
The porosity, texture, and evenness of color are other key factors that fix the value of the turquoise gemstone. Evenness of color is sometimes even more important than the color itself.
Earlier, gems with the finest blue color were only mined in Persia (now Iran) and such a color is still described as 'Persian Blue'.
Navajo Mens Silver Turquoise Multi Inlay Ring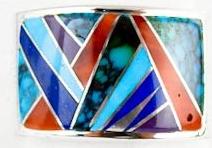 Click On The Image
However, today the term "Persian Blue Turquoise" is rather a description of quality than a declaration of origin. Presently, most of the world's finest quality turquoises come from the United States, the largest producer of turquoise.
The gemstone is composed of copper aluminium phosphate. Its blue color is contributed by copper while its green is either induced by iron or it is a result of dehydration. The gemstone often exhibits blemishes or veins in light black, grey, yellow or brown colors depending on the type of rock in which it was formed. These patterns are referred to as 'Turquoise Matrix'.
Gemstones in lighter shades of blue depreciate in value. Also, the more the stone color moves towards green and more blotchy and irregular matrix the stone displays, lesser will be the value it commands.
Sterling Silver Mens Turquoise Eagle Ring
Click On The Image
Certain rare Turquoise stones do display a particular pattern of matrix that appears much like a spider's web. It is called the 'spider webbing' or the 'spiderweb matrix'. It has a complementary effect on the stone's look, enhances its beauty and adds substantially to its value.
Hardness of gemstone used for Turquoise Jewelry varies around 5 to 6 on the Mohs scale. The hardest turquoise is frequently found near the surface of earth, where it gets a chance to dry/cure. More commonly, turquoise is chalk-like; too soft and porous to be used unless it's treated.
The term 'natural turquoise' is used to describe two different types of gemstones.
Firstly, it is used to describe a turquoise gemstone that has not been treated in any way either with coloring pigment and stabilizing epoxies, or with other chemical treatments aimed at altering the color, hardness or luster of the stone. It is said that only around 3 to10 % of turquoise mined is of adequate hardness to be used in jewelry without stabilization. 'Natural turquoise' in this sense is certainly rare.
Navajo Castle Dome Turquoise Silver Mens Ring
Click On The Image
In addition, the term 'natural turquoise' is also used to describe a turquoise gemstone that has not been treated with coloring pigment or epoxies, but has been given a wax or oil coat for protection. Such a coat is given to prevent discoloration, staining and dehydration which are possible on account of the porous nature of turquoise.
Whatever might be the treatment given, turquoise gemstone jewelry need protection from cosmetics, heat and bright light.
Owing to its porosity and low hardness, Turquoise is rarely ever faceted. It is generally cut in cabochons or beads for use in gemstone jewelry. Turquoise beads are often seen in gemstone necklaces and gemstone bracelets.
Navajo Mens Silver Turquoise Inlay Oval Ring
Click On The Image
For many thousands of years, the stone has been looked upon as holy and a bringer of good fortune. Turquoise has been worn in form of gemstone rings, as natural protection against darkness since times immemorial. It is believed to bring faithfulness and constancy in relationships.
In Iranian architecture, the blue turquoise was used to cover the domes of the Iranian palaces because its intense blue color was thought to be a symbol of heaven on earth.
Unisex Womens Mens Retro Blue Turquoise Eagle Ring
Click On The Image
Persians believed that seeing the reflection of a new moon on turquoise brought luck, and safeguarded against evil. They also believed that looking at the stone could sharpen eyesight and placing it on an inflamed eye was considered to be a cure.
Sterling Silver Turquoise Hoop Earrings
Click On The Image
In modern gemstone therapy, those suffering from depression are suggested to wear a turquoise gemstone or a chain with turquoise beads. The cheerful color of turquoise brings cheer and confidence.
Despite its fragility, the gemstone turquoise to be a high priced possession and never goes out of fashion.
---
See Also: Mens Turquoise Bracelets
---
Click Here To View An Amazing Turquoise Jewelry Collection
---
Or See More Gemstones As Follows:
---
Comments