Pink Diamonds:
A natural pink diamond is a dazzling gemstone that is way beyond rare, a crystal beyond compare. It is the most venerated diamond in the world and a jewel unsurpassed by any other.
Argyle Fancy Light Orangy Pink Cushion Diamond Ring (0.70Ct TW)
Click On The Image
It is the holy grail of the natural fancy colored diamonds. To own a pink diamond is to be the master of an unparalleled heirloom; to gaze upon it is to view profound and overflowing beauty.
The famous French fortune-hunter & merchant Jean Baptiste Tavernier (best-known for acquiring of the 'Tavernier Blue Diamond' & subsequently selling it to Louis XIV) is believed to be the first to make a reference to pink diamonds near the beginning of the seventeenth century.
Tavernier talked about a rather large pink rough diamond weighing-up over 200 carats. The Moghuls showed him this exquisite gemstone in the Kingdom of Golconda in 1642. Called the 'The Grand Table' and estimated to cost Rupees 600,000 at the time, it remains the largest pink diamond in recorded history. The French merchant also procured two pale-pink diamonds in the year 1668 and penciled in the pictures of the stones in his travel book.
| | | | | |
| --- | --- | --- | --- | --- |
| | | | | |
| | 0.25ct Heart Shaped Natural Loose Fancy Deep Pink Diamond | | 0.26ct Natural Loose Fancy Deep Purple Pink Diamond | |
Click On The Images
Fancy colored diamonds acquire their hues from disturbances during their formation process taking place deep inside the earth. Barring pinks, greens and browns, the color in other fancy colored diamonds occur because of trace elements interfering in the crystal formation. A diamond is composed of pure carbon. Atoms of other elements intrude into the pure carbon crystalline structure and cause the color. Nitrogen causes yellows while Boron causes blue.
| | | | | |
| --- | --- | --- | --- | --- |
| | | | | |
| 0.21ct Fancy Intense Orangy Pink Diamond Reddish | | 0.15 Carat Fancy Intense Pink Purple Loose Diamond Natural Color Cushion Cut | | 0.19ct Pink Diamond Fancy Intense Pink Reddish |
Click On The Images
Exactly what imparts a pink diamond its color is a topic of continuing debate. The mystery adds a delightful enigmatic touch to each of this gemstone. The color is thought to be an outcome of distortion of the crystal structure of the stone.
| | | | | |
| --- | --- | --- | --- | --- |
| | | | | |
| | Fancy Pink Round Diamond Halo Ring (1.36Ct TW) | | Fancy Intense Pink Round Diamond Engagement Ring (0.74Ct TW) | |
Click On The Images
The intense pressure beneath the Earth's surface is believed to cause a non-reversible change in the crystal lattice of the diamond causing it to absorb certain spectrum of light and producing the pink color. The process is called 'plastic deformation.' It is incredible and nothing compares to its color and brilliance, & it is significantly more valuable than its white diamond equivalent.
| | | | | |
| --- | --- | --- | --- | --- |
| | | | | |
| Pink Diamond – 0.31ct Fancy Orangy Pink Color | | 0.22ct Pink Diamond – Fancy Intense Orangy Pink | | 0.75ct Pink diamond – Fancy Pink |
Click On The Images
The 7 standard color grades for natural fancy colored diamonds in ascending order are:
Faint.
Very Light.
Light.
Fancy.
Fancy Intense.
Fancy Vivid &
Fancy Deep.
Fancy vivid & fancy deep are the most desirable hues in the color scale.
Red, purple & orange are the secondary hues noticed in natural fancy pink diamonds.
Color Scale For Pink diamonds
Very Light Pink.
Light Pink.
Fancy Light Pink.
Fancy Pink.
Fancy Intense Pink.
Fancy Vivid Pink.
Fancy Deep Pink.
| | | |
| --- | --- | --- |
| | | |
| | Pink-Diamond-Color-Grading-System | |
Pink diamonds are among the world's best kept secrets. In an array of stunning hues & intensities, from very intense purplish pink to a blush pink champagne, these diamonds are so rare most people will never see one.
The value of Pink diamonds is directly related to their rarity. The market for pink diamonds is quite separate to white diamonds, and due to their rarity, pink diamonds typically command prices far in excess of white diamonds.
Fancy Purplish Pink Radiant Diamond Double Halo Ring (3.14Ct TW)
Click On The Image
The entire market of natural pink diamonds lies within the rarefied domain of a privileged few. These ultra rare gemstones are sold in the most exclusive jewelry stores to astoundingly affluent buyers.
Virtually all of the world's supply of pink diamonds comes from a single mine situated in Western Australia.  It is the famous Argyle mine which also produces a large chunk of the brown or the "champagne" and "cognac" color diamonds.
Argyle Pink Diamonds
Argyle holds a veritable monopoly on the world's pink diamond market. They conduct aggressive marketing campaigns to drive home this advantage, driving an already existing robust demand through the roof.
On top of that, a pink diamond has long been considered one of the rarest colored diamonds. (source: S.C. Hofer, Pink Diamonds from Australia, 1985).
Argyle Fancy Intense Purplish Pink Diamond Ring (0.68Ct TW)
Click On The Image
The combination of extreme popularity and a more extreme scarcity (a year's hard-work in the mines hardly yields a handful)  makes the pink diamonds pretty expensive.
Size of the diamond and its color intensity are the key factors influencing the value of pink diamonds. Prices just explode with the increase in size and color intensity.
| | | | | |
| --- | --- | --- | --- | --- |
| | | | | |
| | 0.88ct Pink Violet Diamond Fancy Intense Pink And Violet | | Purple Diamond – 0.83ct Fancy Pink Purple Heart | |
Click On The Images
Modifying colors do not much have much of an impact simply because pink diamonds are modified by equally rare and desirable colors such as Orange and Purple.
Pink symbolizes fun, beauty, love and romance. A pink diamond is the perfect romantic gift for your loved one, whether you're looking to buy pink diamond rings for a Christmas present or the perfect pink diamond engagement ring.
| | | |
| --- | --- | --- |
| | Click On The Image | |
| | | |
An extraordinary rare and exceedingly beautiful 24.78 carat pink diamond, once in the possession of American jeweler Harry Winston (who sold it to a private collector), has been described as "one of the greatest diamonds ever discovered".
Pink Diamond Half Carat Stud Earrings in 14k White Gold
Click On The Image
Graded as "Fancy Intense Pink" (the best rating for a pink diamond) by the Gemological Institute of America, it was not seen on the open market after being sold by Harry Winston about 60 years ago.
Fancy Vivid Pink Diamond 3.72 TCW VVS2 Round 18K White Gold Ring
Click On The Image
The emerald cut diamond with rounded corners and mounted on a silver ring with two flanking shield-shaped diamonds surfaced after sixty years and was sold by Sotheby on sixteenth November 2010 for US $46 million (£29 million). This pink diamond became the most expensive single jewel ever sold at auction.
"What makes it so immensely rare is the combination of its exceptional color and purity with the classic emerald-cut," said David Bennett, chairman of Sotheby's European and the Middle Eastern jewelry departments. "It's a style of cutting normally associated with white diamonds and one that is so highly sought-after when found in rare colors such as pink and blue."
It is so profoundly rare that the jewel has been classified as type IIa diamond, which makes up of less than two percent of the world's diamonds.
0.13ct Natural Fancy Purplish Red Diamond
Click On The Image
Despite its rarity, the diamond remained un-named for all this time. Laurence Graff, of Graff Diamonds who purchased it for the record price named it Graff Pink.
Ben Affleck purchased a 6.1 carat pink diamond ring for his engagement to Jennifer Lopez and David Beckham gave his wife, former Spice Girl Victoria "Posh" Adams a $1.8 million pink diamond apology ring following his public indiscretion.
Ben Affleck and Jennifer Lopez Pink Diamond Engagement Ring
---
Or Learn About More Colored Diamonds As Follows:
---
See Also:

Fascinating Facts About Diamonds Straight From Tiffany & Co's Chief Gemologist
---
Argyle Pink Diamonds
---
Argyle Mystra Pink Diamond: 2.02ct Round Brilliant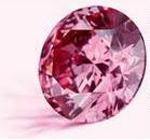 GIA Fancy Vivid Purplish Pink I1
Named after the mystical Weaver of Earth Magic, Argyle Mystra offers an enchanting depth of color. It is a rarity for a diamond to feature such vivid color partnered with such size, making Argyle Mystra an exceptionally important Argyle pink diamond.
---
Argyle Ava Pink Diamond: 0.50ct Round Brilliant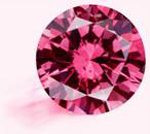 GIA Fancy Purplish Red SI2
A true treasure of the Earth, Argyle Ava is a tribute to the land from which it was born. Its captivating red tone and deep flashes of purple, make Argyle Ava a highly unique and admired Argyle pink diamond.
---
Argyle Iris Pink Diamond: 1.43ct Square Emerald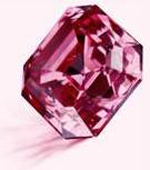 GIA Fancy Purplish Red SI1
Offering iridescent color, Argyle Iris was named after the mythological messenger who rode rainbows between heaven and Earth. Its purplish red tones are a rare offering and its spellbinding glow makes Argyle Iris a revered Argyle pink diamond.
---
Argyle Amour Pink Diamond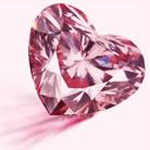 GIA Fancy Intense Pink SI1
Taking its name from the warmth, passion and romance it exudes. Its rare heart shape is a fitting expression of true and eternal love, and has earned Argyle Amour the honor of being the most valuable heart shaped diamond ever produced from the Argyle Diamond Mine.
---
Argyle Shalimar Pink Diamond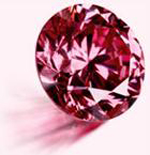 GIA Fancy Vivid Purplish Pink I1
Named after the stunning Shalimar Gardens, an exotic sanctuary built by the Indian Emperor Jahangir as a gift to his beloved wife, Argyle Shalimar features a luminous array of incredible color, including iridescent pink and intense violet.
---
Argyle Scarlett Pink Diamond: 1.10ct Oval Brilliant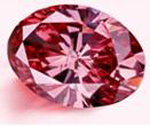 GIA Fancy Red I1
Named for its sensual depth of color and the glamor it conjures, Argyle Scarlett offers a mysterious and lustrous allure, and is truly breathtaking.
---
Argyle Aphrodite Pink Diamond: 1.01ct Round Brilliant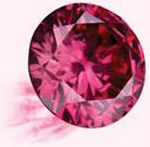 GIA Fancy Purplish Red SI1
With its intense and passionate color, Argyle Aphrodite was named as a tribute to the 'Greek Goddess of Love and Passion', and has been referred to as the best example of the finest Argyle pink diamond found in years. Its red certification escalates its rarity even beyond that of other pink diamonds.
---