Opal is the birthstone for October (The Scorpio and Libra Birthstone). It is also the gem of the 14th and 18th wedding anniversary.
Multi-color Australian Loose-Opal- Gemstones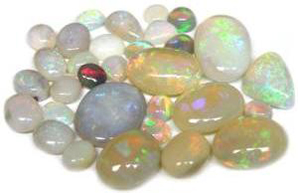 In gemological circles, origin of the name Opal is a topic of debate. The most plausible line of reasoning suggests that it is adapted from the Indian Sanskrit word upala meaning "valuable stone."
| | | |
| --- | --- | --- |
| | | |
| Yellow Gold Australian Opal and Diamond Ring | | Australian Opal and Diamond Ring in 10K White Gold |
Click On The Images
The term first appears in Roman references around 250 BC. At the time these valuable stones were being supplied from India. Other names for the gemstone fell from use after 250 BC. Other theories submit that the name has been adapted from the Roman term opalus or the Greek word Opallios.
14k Gold Twisted Cushion Opal Engagement Ring
Click On The Image
Opal is the gem-quality strain of hydrated amorphous silicon dioxide. It is hydrated means that it always contains 3% to 30% of water. It is amorphous means that it is without a crystalline structure and without a definite chemical composition. More accurately it is a "mineraloid" rather than a "mineral".
| | | | | |
| --- | --- | --- | --- | --- |
| | | | | |
| Womens Solid Yellow 10K Gold Natural Fiery Opals Cluster Pendant Necklace | | Womens Solid Yellow 10K Gold Natural Opal & Blue Sapphire Pendant Necklace | | Solid Yellow 10K Gold Natural Opals Pendant Necklace |
Click On The Images
The gemstone forms in the dry ground of semi-desert areas like that in Australia's outback. The dry ground was drenched by seasonal rains at some point in time. Silica dissolved in the rain water and seeped downward deep into ancient underground rocks.
| | | |
| --- | --- | --- |
| | | |
| October Birthstone Double Halo Pendant Necklace for Women with Diamond and Pink Sapphire | | Rope Framed Claw Set October Birthstone Solitaire Dangle Pendant |
Click On The Images
Much of the water evaporated during subsequent dry spells. Deposits of solid sub-microscopic Silica spheres are left behind sandwiched between layers of underground sedimentary rocks. These deposits metamorphose into Opals.
14k Rose Gold Natural Aquamarine and Opals Womens Band Ring – Sizes 4 to 12 Available
Click On The Image
Opal is renowned for its inimitable spectacle of flashing rainbow colors called play-of-color. However, not all gemstones display this play-of-color. There are two distinctive classes of opals — precious & common. Precious opal displays play-of-color, while the common one does not.
| | | |
| --- | --- | --- |
| | | |
| Solid 14K Yellow Gold Natural Fiery Opal & Amethyst Daisy Ring | | Solid 10K White Gold Natural Opal & Sapphire Large Cluster Ring |
Click On The Images
The play-of-color consists of a brilliant range of rainbow colors. Iridescent colors flash, sparkle and change with the angle of viewing. This rare effect is also referred to as "fire" or "flash".
The cause of this property unique to Opals was discovered by Australian scientists in the 1960s after scrutiny under electron microscopes.
| | | |
| --- | --- | --- |
| | | |
| 14k White Gold Natural Opal and Diamond Womens Cluster Ring | | Genuine Opal Cabochon, Pink Tourmaline & Diamond Ring |
Click On The Images
The sub-microscopic Silica spheres in this gemstone have to be of a particular size & very precisely arranged for it to display this play of color. Opals have a distinctive internal physical composition. Infinitesimal spheres of silicon interspersed with water create a neatly stacked inner structure. The grid like pattern is akin to layers of Ping-Pong balls in a box. At times, these spheres are consistent & orderly in their arrangement.
| | | | | |
| --- | --- | --- | --- | --- |
| | | | | |
| | 5.07 Ct White Gold Fire Opal & Diamond Ring 14 Kt | | Genuine Opal Cabochon, Pink Tourmaline & Diamond Ring | |
Click On The Images
The varying refractive indices of the hydrated spheres, 'chips' of silicon and oxygen suspended within the stone act in harmony. They slice up rays of light passing through the stone. Interference, refraction and diffraction dismember the passing light into its constituent colors. This results in the dramatic play of color.
On the other hand, when the silica spheres are not stacked in an orderly fashion, play of color fails to occur. The result is common or non-precious stone also known as 'potch'.
| | | |
| --- | --- | --- |
| | | |
| 18k Yellow Gold Natural Opal Womens Solitaire Ring | | Gin and Grace 14K Yellow Gold Oval-cut Ethiopian Opal and Diamond Ring |
Click On The Images
Opals occur in a multitude of colors including colorless, white, creamy, blue, pale red, pale yellow, gray, brown & black. Yellow, blue & green are the most common. Violet, red & orange are the rarest colors seen through play of color.
14k Gold With Austrian Opal & Diamond Pendant
Click On The Image
Gem-quality precious Opal is a magnificent chameleon of a gemstone. An individual stone can flash all colors of the visible spectrum. The splendid play of color can surpass the "fire" of a diamond. Price per carat of such fine specimens can exceed the most pricey rubies, emeralds and diamonds.
Tension Set Solitaire Opal Engagement Ring 14k White Gold 1.00ct
Click On The Image
| | |
| --- | --- |
| | Opal History And Lore: |
William Shakespeare called Opal the "Queen of Gems".
In 75 A.D. the Roman Historian Pliny wrote about this gemstone in the following manner: "For in them you shall see the living fire of ruby, the glorious purple of the amethyst, the sea-green of the emerald, all glittering together in an incredible mixture of light."
| | | |
| --- | --- | --- |
| | | |
| 14kt Gold Fire Opals and Diamond 5mm Trillion Bowtie Ring | | 14kt Gold Fire Opals and Diamond 7x5mm Oval Antique Style Three Stone Ring |
Click On The Images
Pliny further observed, "Some opali carry such a play within them that they equal the deepest and richest colors of painters. Others simulate the flaming fire of burning sulphur & even the bright blaze of burning oil." The historian marveled that this kaleidoscopic gem encompassed the red of ruby, the green of emerald, the yellow of topaz, the blue of sapphire, and the purple of amethyst.
| | | |
| --- | --- | --- |
| | | |
| 14.7 Cttw Fire Opals Pave Diamond Cuff Bracelet in 18K Yellow Gold & Sterling Silver | | 10k Rose Gold Fire Opals and Diamond Classic Princess Di Halo Stud Earrings |
Click On The Images
Romans believed Opal to be the most powerful and precious of all gemstones as it exhibited the colors of other gems.
Among some cultures this gemstone is deemed to have supernatural origins. The nomadic Bedouins of Arabia believe that opals fell from the sky during thunderstorms and contain lightning.
Ancient Greeks believed that opals gave the gift of prophecy to their owners and guarded them from disease.
14kt Gold Fire Opals and Diamond 5x3mm Pear Halo Pear Dangle Earrings
Click On The Image
Opal is regarded as an October birthstone. As such, some people deem it to be unlucky for people born in other months to wear it. This erroneous superstition originated from Walter Scott's novel "Anne of Geierstein" written in the 1800s and not from any ancient belief or experience. Nonetheless, the gemstone has been regarded as the luckiest and most magical of all gems throughout history.
The gemstone continues to be a symbol of hope, purity, and truth for Europeans.
| | |
| --- | --- |
| | Sources: |
Australian mines started producing opals commercially in the 1890s and rapidly became the number one source for this beautiful October birthstone. So much so that today Australia produces 97% of the world's supply. And it is the national gemstone of Australia.
| | | |
| --- | --- | --- |
| | | |
| 14kt Gold Fire Opal and Diamond 6mm Square Engagment Ring | | 14kt Gold Fire Opal and Diamond 6mm Round Engagment Ring |
Click On The Images
Other noteworthy sources of the gemstone are The United States, Czech Republic, Slovakia, Hungary, Indonesia, Turkey, Brazil, Honduras, Guatemala, Ethiopia & Nicaragua.
| | | | | |
| --- | --- | --- | --- | --- |
| | | | | |
| | 13.75 Ct White Gold Opal & Diamond Cocktail Ring 14 Kt | | Oval Cabochon Opal and Diamond Floral Vintage Ring | |
Click On The Images
---
| | | |
| --- | --- | --- |
| | | |
| Opal Gemstone Solid 14K Rose Gold Natural Diamond Wedding Bridal Ring | | Double Pear Shape Simulated Opals 14K Yellow Gold Belly Ring |
Click On The Images
---
October Birthstone – Vintage-Style Oval Opal and Diamond Scroll Engagement Ring
Click On The Image
---
Diamond Halo Claw Cabochon Opals Dangle Earrings
Click On The Image
---
| | | | | |
| --- | --- | --- | --- | --- |
| | | | | |
| 4.36 Ct. Rare Natural Oval Cabochon Multi-Color Solid Opal Australian Loose Gemstone | | 10.73 ct HKD Certified Pear Cut 21 x 14 mm Flashing 360 Degree Multicolor Black Opal Loose Gemstone | | 4.41 Carat Natural Oval Cabochon Multi Color Solid BLACK Opal Ethiopia Loose Gemstone |
Click On The Images
---
Or See More Gemstones As Follows:
---
See Also:
---
---