Onyx- the black mystical stone is the birthstone for the month of December. Considered as the birthstone for the star sign Leo; it is also the seventh and tenth anniversary gemstone. The gemstone is admired for its extraordinary elegance and vividness.
14K White Gold Natural High Quality Ruby & Black Onyx 3-Stone Ring Oval Diamond Accent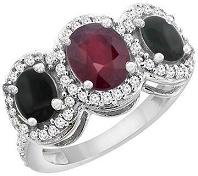 Click On The Image
The name Onyx is derived from the Greek Word "Onux", which means fingernail or claw. Legend has it that once naughty Cupid cut the fingernails of Venus with an arrowhead whilst she slept on the banks of the Indus River. The nails fell into the river. The Gods then turned the divine scattered clippings into stone, thus giving birth to this gemstone.
The legend that the gemstone took birth from the body part of Venus justifies the stone's fine texture and lustrous black color. After all, Venus is venerated for her alluring beauty. The gem held great importance for Ancient Greek and Romans.
| | | | | |
| --- | --- | --- | --- | --- |
| | | | | |
| | White Onyx Diamond Ring in Rose Gold | | Rose Gold White Onyx Diamond Ring | |
Click On The Images
Onyx is essentially black chalcedony microcrystalline quartz with a fine texture. It may sometimes exhibit white bands or ribbons against a black background. The black and white banded stone can either be categorized into Agate or Onyx. The difference would be that Onyx requires roughly parallel banding, whereas, Agate can have a more chaotic wavy or concentric bands.
The gemstone is essentially a multi-layered stone like agate & depending on the type of colored layers; it can be divided into separate categories.
A stone with a black base and white upper layer is called Onyx. When the gemstone exhibits white & lighter reddish bands or ribbons of silicon dioxide against a brown background it is known as Sardonyx. When it has a red base, it is known as Cornelianonyx.
Though the gemstone essentially has a black base and a white upper layer, it may contain bands of several other colors in between.
For instance, the Sardonyx- one of the popular varieties of this gemstone has a color play of reddish brown and white. It was a highly valued stone among the Romans.
Mens Ring Sard Onyx & Diamond 14K Yellow or White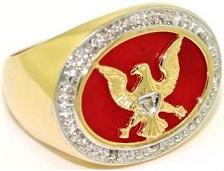 Click On The Image
Another variety is the Cornelian Onyx (also spelled carnelian) which again has a red base layer.
The Niccolo Onyx also has an interesting play of colors. It's very thin upper layer allows its base black layer appear as grey or blue. This fascinating stone is many times available in a singular color too.
| | | | | |
| --- | --- | --- | --- | --- |
| | | | | |
| Tivolia Collection 14K Yellow Gold Black Onyx Briolette and Cognac Diamond Dangle Earrings | | Onyx & Diamond Earrings | | 14k Gold 925 Sterling Silver 3.65Ct Diamond Pave Sapphire & Onyx Dangle Earrings Handmade Vintage Jewelry |
Click On The Images
This amazing color play in Onyx makes it an interesting gemstone for jewellery lovers – both men and women. It can be easily fashioned into an assortment of jewellery that presents its color banding in the most wonderful way.
The gemstone gives you the look of black diamond for less. It is a perfect foil for diamond in black and white geometric designs.
| | | | | |
| --- | --- | --- | --- | --- |
| | | | | |
| 14k Gold 925 Sterling Silver 77.44Ct Onyx Carved Diamond Dangle Earrings | | 14k Gold 925 Sterling Silver 65.49 Ct Onyx Carving Diamond Pave Fashion Dangle Earrings | | 18kt Gold Diamond Pave Black Onyx Carved Dangle Earrings Silver Handmade Jewelry |
Click On The Images
While most people associate it with being black, the gemstone occurs in many colors including white, red and green. And although the gemstone comes in such variety of colors, black is the most prevalent color used in jewelry. Onyx jewelry is eye-catching & startling, especially when set in a contrasting silver, white gold or platinum setting.
| | | | | |
| --- | --- | --- | --- | --- |
| | | | | |
| | 18kt Gold Rose Cut Diamond Onyx Beads Macrame Cord Bracelet Silver | | Black Onyx Gemstone Beaded Macrame Bracelet Fashion Jewelry | |
Click On The Images
It can be carved into stunning cameos. The largest remaining ancient cameo is the The Great Cameo of France, which dates back to approximately 23 A.D.This cameo is carved from five-layer sardonyx. It is presently at display in the Bibliotheque nationale de France, in Paris.
| | | | | |
| --- | --- | --- | --- | --- |
| | | | | |
| | Genuine Black Onyx, Emerald and Diamond Panther Bracelet in 14K White Gold 2.16tcw | | Natural Green Onyx Gemstone Beaded Macrame Bracelet Silver Fashion Jewelry | |
Click On The Images
The gemstone can also be faceted or it can be cut into lustrous cabochons. It is also used to make beads or pendants. In combination with golden settings this stone provides a dramatic and gorgeous contrast. The black of this gemstone also gels well with silver art jewellery.
| | | | | |
| --- | --- | --- | --- | --- |
| | | | | |
| 925 Sterling Silver 39.90 Ct Onyx Carving Diamond Pave Fashion Cocktail Proposal Ring Handmade Jewelry | | Tivolia Collection 14K Yellow Gold Domed Black Onyx and Cognac Diamond Ring | | Custom Made Solid Skull with Paved Black Onyx Around the Skull in Sterling Silver |
Click On The Images
This Gemstone is typically opaque and has a waxy to dull lustre. It can appear similar to other stones like schorl tourmaline, black diamond or black jade. The stone has a moferate hardness of 6.5 on the Mohs scale.
| | | | | |
| --- | --- | --- | --- | --- |
| | | | | |
| 14k White Gold Natural Black Onyx Ring Oval With Diamond Accent | | Azaara Green Onyx Surrounded by Pave Champagne Rose Cut Diamond Ring | | Piero Milano 10.05Ct Diamond & Black Onyx 18K Yellow Gold Cocktail Ring |
Click On The Images
Although the gemstone is found all over the world, the most significant place of its mining is Brazil. Brazil is the source of best quality multi-colored untreated chalcedony. In addition it also occurs in California, Uruguay, India & Madagascar. Gray chalcedony is found in India & China.
Onyx is a beautiful stone in itself. Its exceptional black beauty rivals many other gemstones. No wonder Adele donned earrings made from moonstone, onyx and diamond at the 2012 Brit Awards. This rare and exquisite stone is popular and treasured by gems and jewellery lovers everywhere.