Natural fancy colored diamonds are the 'Rembrandts' of the diamond industry.
Colored diamonds are not what you normally visualize when you think about diamonds. What your mind's eye rather sees is a crystal clear diamond with no perceivable color. Such clear colorless stones still remain the traditional and popular choice. However, diamonds do come in every color imaginable. From Yellow, Green and Blue to Pink and Red and much more. Vivid shades of the rainbow with limitless variations!
| | | | | |
| --- | --- | --- | --- | --- |
| | | | | |
| 3.01 Carat Fancy Vivid Yellow Loose Diamond Natural Color Cushion Cut | | 1.03Cts Fancy Purplish Pink Loose Diamond Natural Color Heart Shape | | 0.84 Carat Argyle Fancy Intense Pink Loose Diamond Natural Color Radiant Cut |
Click On The Images
So Where does color come from?
Phenomenal conditions create natural color diamonds. Minute quantities of trace elements interact with carbon atoms bringing about the natural color in these spellbinding gemstones.
| | | | | |
| --- | --- | --- | --- | --- |
| | | | | |
| | Kaleidoscope 18K White Gold Floating Color Diamonds and Color Sapphire Rectangular Pendant Necklace | | Kaleidoscope 18 Karat White Gold Floating Color Diamonds & Color Sapphire Square Pendant Necklace | |
Click On The Images
Diamonds with a detectable natural hue, are known as natural color diamonds. If the color is strong enough, the diamond is referred to as a natural fancy colored diamond.
In the past few years, colored diamonds have taken the jewelry market by storm with pink, blue & yellow fancy stones being greatly sought after by those who are able to afford these rare & luxurious substitutes to white.
Their rarity & beauty makes these gemstones worth well into the millions. The high scarcity and skyrocketing demand for colored diamonds is making them not just a girl's best friend but an investor's too.
In the last twenty years or so, rare fancy color diamonds have seen upto thirty-fold increase in value. The appreciation is mainly fuelled by the need of investors to find alternative avenues of investment to secure their wealth and to protect inheritance for the next generation.
| | | | | |
| --- | --- | --- | --- | --- |
| | | | | |
| 8.40 Cts Fancy Yellow Loose Diamond Natural Color Cushion Cut | | 0.55Cts Fancy Deep Blue Green Loose Diamond Natural Color Pear | | 1.67Cts Fancy Green Loose Diamond Natural Color Radiant Cut |
Click On The Images
Most people are still not aware that diamonds exist in colors other than white & when they come to know that they do, they are fascinated. The rare & the beautiful always remain in demand.
How does a diamond become colored?
The development of natural color diamonds is a process that needs not only the original magical recipe for diamond creation, namely that of unimaginable heat & pressure placed on carbon crystals, but also the presence of additional trace elements as well.
A diamond is nothing but a crystallized isotope of carbon. The majority of natural diamonds develop in the high pressure & high temperature conditions existing at extreme depths of 140 kms to 190 kms within the Earth's Mantle. Carbon or carbon containing minerals provide the seed carbon source. The miraculous metamorphosis of carbon into a diamond crystal happens over a period of hundreds of millions of years.
| | | | | |
| --- | --- | --- | --- | --- |
| | | | | |
| 2.27Cts Fancy Light Purplish Pink Loose Diamond Natural Color Cushion | | 1.02Cts Fancy Intense Pink Loose Diamond Natural Color Marquise Shape | | 0.38Cts Argyle Fancy Red Loose Diamond Natural Color Radiant Cut |
Click On The Images
Purer the carbon seed and the more perfect the crystalline lattice structure, clearer and more colorless is the resulting diamond. However, the conditions in which a diamond develops are far removed from the ideal and sanitized conditions of a laboratory.
Round Brilliant Cut Blue Diamond Earring Studs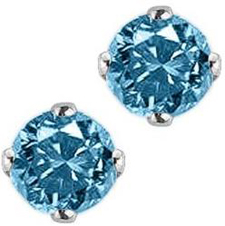 Click On The Image
At times the crystalline structure of the diamond gets distorted by the immense pressure at those depths. At other times, the seed carbons source gets impregnated with impurities like nitrogen, boron or hydrogen and many a times both the above factors occur together.
Occasionally, a diamond can also get exposed to a source of radioactivity during its formative years. Mostly, such radiation comes in the form of alpha and beta particles emitted by underground uranium compounds or by seeping groundwater.
| | | |
| --- | --- | --- |
| | | |
| 14k White Gold 4-Prong Setting 2.44 Carat Round Natural Red Diamond Engagement Ring | | 18k White Gold 8-Prong Setting 3.50 Carat Round Natural Red Diamond Split Shank Engagement Ring |
Click On The Images
Depending on the type of impurity or crystalline distortion or exposure to radioactivity, the resulting diamond absorbs certain spectrum of light and reflects others. We perceive the color of the diamond based on the reflected spectrum of light.
Though all natural fancy colored diamonds are rare wonders of nature, there are differences in degree of rarity among the colors. Natural fancy Red diamonds, together with natural fancy Pink, Blue, Pure Orange, Green and Violet are among the rarest of natural fancy colored diamonds. Yellow and brown diamonds are comparatively more common.
********************
If nitrogen interacts with carbon atoms during the creation of a diamond and becomes ingrained in its lattice structure, the color of the resulting diamond turns yellow. Yellow Diamonds get their  shade from nitrogen impurities.
| | | | | |
| --- | --- | --- | --- | --- |
| | | | | |
| | 14K Rose Gold Chocolate Brown & White Round Diamond Halo Circle Engagement Ring | | 14K Rose Gold Chocolate Brown & White Round Diamond Halo Circle Ring | |
Click On The Images
The color in blue diamonds (gray-blue, grayish blue, blackish blue or black-blue colored diamonds) is caused by the presence of minor amounts of boron in their crystalline structure.
********************
Violet diamonds owe their color to presence of hydrogen in their crystalline lattice structure. They can display deep violet hues with gray or silver modifying colors. Natural fancy violet diamonds with a Violet hue are incredibly rare in nature.
Since natural fancy violet diamonds are virtually non-existent, there has been a considerable debate as to whether these gemstones actually exist or not. However, it is a fact that natural fancy violet diamonds do exist and are separate from natural fancy Purple diamonds.
********************

It is thought that the intense pressure beneath the Earth's surface causes a non-reversible change in the crystal lattice of the diamond causing it to absorb certain spectrum of light and producing color. The tremendous pressure exerted on the diamond deep in the earth abnormally compresses  & distorts its crystalline structure, thus creating a purple, brown, red or pink diamond.
********************
********************
A shower of natural radiation during the process of creation of a diamond can impact its color. Green diamond hues are a result of such natural radiation in the earth.
MODIFIERS
Almost all colored diamonds exhibit multiple spectral hues. The predominant color is mingled with modifiers, one or more additional colors that factor in the overall impression. The combination of modifying colors contributing to a colored diamond's final appearance also contributes to the final per carat price of a gem.
Mens 14k White Gold 10.26ctw Canary And Blue Prong Bezel Diamond Chain
Click On The Image
Natural colored diamonds are graded for color in a different way than white diamonds. They are graded in the following order: faint, very light, light, fancy light, fancy, fancy dark, fancy intense, fancy deep, and fancy vivid. With most natural colored diamonds, the more desirable stones are the ones closer to fancy vivid.
| | | | | |
| --- | --- | --- | --- | --- |
| | | | | |
| 0.13ct Natural Fancy Purplish Red Diamond | | 0.20ct Argyle Diamond Fancy Deep Pink | | 0.16ct Argyle Diamond Fancy Deep Red Tone |
Click On The Images
Colored diamonds can range from under $2,000 per carat for some orangy brown diamonds to more than $22,000 per carat for fancy pink brown diamonds, amply demonstrating the effect of modifying colors on the final value of colored diamonds.
********************
Click On The Image
********************
Fancy colored diamonds fall into a whole other category from white diamonds. Usually, shoppers looking for fancy colored diamonds have different needs than those looking for white diamonds.
10k White Gold Blue and White Diamond Earrings
Click On The Image
"If gems are the flowers of the mineral kingdom, fancy color diamonds are the orchids" (R. J. Huay, 1817).
These poignant words, written by French mineralogist R.J. Huay, perfectly express the appeal of colored diamonds as exotic and rare beauties of nature. Diamonds come in the largest variety of colors of any known natural gemstone. The two most famous diamonds in the world are colored diamonds. The Tiffany Diamond is a magnificent Fancy Yellow, 128.54 carat diamond and the Hope Diamond is a stunning blue, weighing 45.52 carats.
| | | | | |
| --- | --- | --- | --- | --- |
| | | | | |
| 25.13Cts Fancy Dark Yellow Brown Loose Diamond Natural Color Radiant Cut | | 1.35 Carat Fancy Gray Blue Loose Diamond Natural Color Pear Shape | | 0.79Cts Fancy Vivid Orange Loose Diamond Natural Color Radiant Cut |
Click On The Images
Colored diamonds are very much in vogue these days. The rage for these stones was triggered by celebrities sporting them on the Red Carpet. Moreover, when A-list figures, like Jennifer Lopez & Victoria Beckham received pink diamond engagement & eternity rings, curiosities were bound to be fueled. And where the celebrities go, high fashion follows.
| | | | | |
| --- | --- | --- | --- | --- |
| | | | | |
| | 0.48ct Fancy Deep Orangy Pink Red Tone Diamond | | De Couer 2ct 8.2mm Round Brilliant Red Loose Diamond | |
Click On The Images
---
Click Here To View An Amazing Colored Diamonds Jewelry Collection
---
Or Learn About More Colored Diamonds As Follows:
---
---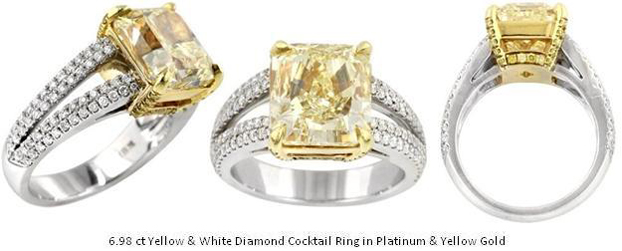 Yellow & White Diamond Ring In Platinum & Yellow Gold
---
Four Prong Solitaire Platinum Ring With Fancy Deep Red Diamond

---
Delicate Engagement Platinum Ring With Fancy Greenish Yellow Diamond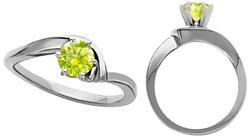 ---
Solitaire Engagement Platinum Ring With Blue Diamond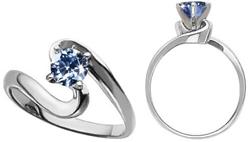 ---
Tapered Four Prong Solitaire Platinum Ring With Fancy Orange Yellow Diamond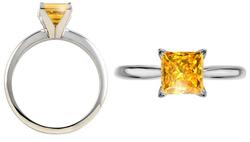 ---
14K Yellow Or White Gold Mens Engagement Ring With Fancy Orange-Yellow Diamond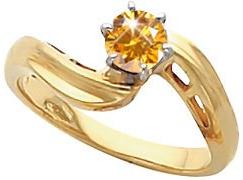 Save