About Amber Jewelry
Amber is by far the oldest gemstone of organic origin. The gemstone was treasured by earliest known ancient civilizations. Even communities belonging to the Stone Age are known to have crafted beads and talismans by polishing Amber. Such ancient Amber jewelry pieces have retained their shine and beauty after thousands of years.
| | | |
| --- | --- | --- |
| | | |
| Sterling Silver Butterscotch Amber Drop Set Earrings Pendant | | Sterling Silver Amber Drops Leverback Earrings Necklace Set Chain |
Click On The Images
Homer mentions amber jewelry – earrings and a necklace of amber beads – as a princely gift in the Odyssey.
The inherent beauty of gemstone Amber is greatly enhanced when it is worked into jewelry. The gemstone is usually paired with silver while crafting jewelry to achieve a beautiful dichotomy of colors.
Green Amber Top Quality Sterling Silver French Collection Oval Pendant
Click On The Image
Amber jewelry can be fashioned into delicate earrings. Large chunky statement pieces like necklaces, bracelets and pendants are also created and are popular. The soft gemstone can also be sculpted into a variety of elaborate and flamboyant decorative shapes.
| | | |
| --- | --- | --- |
| | | |
| Palladium Silver Cushion Shaped Baltic Amber & Peridot Ring | | Michael Valitutti Palladium Silver Baltic Amber High-Set Vatican Ring |
Click On The Images
Amber is well known for its inclusions. Eons ago, the gemstone was just a resinous gooey secretion that flowed out through cracks in the bark of trees. It trapped all sorts of flora and fauna: ants and gnats, spiders, scorpions, leaves, fungi, cobweb etc. As the resin fossilized and hardened, the trappings turned into inclusions. Amber inclusions fascinate scientists, jewelers and connoisseurs alike. Visible intact inclusions can greatly increase the price of an amber gemstone.
Amber Women 925 Sterling Silver Bracelet
Click On The Image
Natural Amber floats in water and this is one of the properties used to identify it. However, once the stone is set in jewelry, metal surrounding the gemstone does not let the gemstone to float. Hence this test will no longer be effective to check whether amber in jewelry is natural.
| | | |
| --- | --- | --- |
| | | |
| Sterling Silver Multicolor Amber Abstract Stones Oval Pendant | | Sterling Silver Amber Sun Drop Pendant |
Click On The Images
Amber measures a low 3 to 3.5 on the Moh's scale. It means that the gemstone is soft and to some extent brittle. Sometimes a jeweler may seal the amber in a durable varnish to prevent scratching.
Multicolor Amber Bead Long Necklace 54 Inches
Click On The Image
Bezel gemstone setting is a type of setting wherein a perimeter of metal surrounds the stone. Such a setting provides protection to the stone. Bezel setting is accordingly preferred for crafting amber jewelry. It lets larger pieces of amber to be worked into brooches and pendants.
| | | |
| --- | --- | --- |
| | | |
| Certified Natural Baltic Amber Necklace Collar | | Amber Necklace Collier Natural Baltic Amber |
Click On The Images
Amber melts at low temperatures giving off an aromatic pine-like or resinous aroma. Someone may unwittingly test amber by touching it with a heated needle. If it is plastic masquerading as Amber it will give off an unpleasant chemical odor. The test is not recommended as it causes irreparable damage to the gemstone.
Amber Jewelry Gradation
The value of an Amber gemstone is essentially decided by its color, clarity, and size. In contrast to other gemstones, inclusions in amber enhance its value particularly if they are in the form of intact and visible flora or fauna.
Sterling Silver Amber Sun Drop Pendant
Click On The Image
The Color Attribute
Amber occurs in a range of different colors. Rich honey or cognac hue is the desired and pricey color in Amber gemstone. True yellow or pale straw are other preferred colors. Still other color of choice is the deep cherry red. Green amber with a rich hue is fancied more than those with paler tones. Pyrite impurities can sometimes give amber a bluish color.
| | | |
| --- | --- | --- |
| | | |
| 14K Gold Amber Drop Earrings | | 14k Gold Amber Drop Leverback Earrings |
Click On The Images
The Clarity Attribute
Clarity is another important factor determining the value of an Amber gemstone. Amber clarity varies from transparent to opaque and it has a resinous luster. Only a clear specimen can exhibit the gem's radiant warm colors in true glory. Amber with insect, animal or plant inclusions are more valuable. Value added by these inclusions is tremendous when the included flora and fauna is intact and clearly visible. Also the inclusions in your Amber jewelry will invariably start a good conversation in any group.
Natural Baltic Amber Bracelet Dark Marble Colour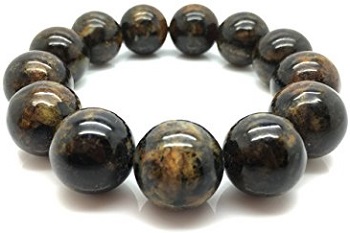 Click On The Image
Translucent and opaque forms of amber used for sculpting decorative articles rather that for crafting jewelry.
"Amberoid" or "pressed amber" is created by compressing and heating many little pieces of amber to form a larger gem. Value of such a, 'natural pressed Amber' is lower than a larger gem from singular piece. The treatment must be disclosed and declared by the jeweler.
| | | |
| --- | --- | --- |
| | | |
| Amber Women 925 Sterling Silver Ring | | Sterling Silver Men Ring Steel Pen Craft Handmade Honey Amber CZ Stone |
Click On The Images
The Cut Attribute
Amber gemstone is seldom faceted. It is commonly cut into cabochons & beads. It is also frequently polished into free-form shapes following the original contours of the rough material. It might be drilled into for stringing like beads. Being quite soft, Amber is easy to cut. Lapidaries persevere to preserve as much of the rough as possible while cutting. Round & oval amber stones are very popular. Other fancy shapes such as stars, hexagons, pentagons, trillions and heart shapes are also readily available. A big stone can be carved. Smaller stones are polished, used rough or sorted away.
Blue Sumatra Amber and Agarwood Beaded Elastic Bracelet
Click On The Image
Gemstone Amber Treatments
Virtually all amber gemstones set into jewelry have been treated by heating in oil. This is an accepted treatment. The treatment enhances the color of the stone without harming it.
Other unacceptable treatments include directly heating the gemstone, coating it with tinted varnish or melting it partially to change its shape.
| | | |
| --- | --- | --- |
| | | |
| Amber Ring Dome Amethyst Garnet Blue Topaz Marcasite Sterling Silver | | Michael Valitutti Carved Amber Tiger Print Intaglio & Orange Sapphire Ring |
Click On The Images
Copal, a less aged version of amber like resin is used to fill cracks and pits in an amber gemstone rendering it more symmetrical and beautiful.
Such enhancements bring good looking gems into an affordable price range. However, some of such treatments are unacceptable to gem connoisseurs.
Genuine Natural Baltic Amber Stretch Bracelet For Women
Click On The Image
Amber Jewelry Metaphysical Properties
While amber is not a birthstone, it is associated with the astrological sign of Taurus. Amber jewelry is said to bring a carefree, sunny disposition. It is also purported to
promote good luck and success.
Amber Sterling Silver Oval Amazing Flower Earringss
Click On The Image
Caring for Amber Jewelry
Handle this gorgeous but soft and fragile gemstone with great care. Do not clean Amber jewelry with abrasive chemicals. Avoid wearing it during high impact activities like playing sports. Place your jewelry pieces gently into the jewelry box. Better still; wrap them with soft cloth while storing to avoid friction with other jewelry pieces. Avoid alcohol based jewelry cleaners. Clean jewelry with soft non-abrasive cloth.
Conclusion
Amber has an abounding history. Its journey starts as a humble sticky resin in an amber producing jungle. An astounding metamorphosis transforms it into a precious pebble stumbled upon on the beach. End result is a gemstone of phenomenal visual interest and extraordinary charm.
Every chunk of natural amber is 'one of its kind.' Consequently, people have had an everlasting fascination with this radiant gem. Amber jewelry makes a stunning statement with the captivating golden color of the gem and its mysterious depths.
---
Or See More Gemstones As Follows:
---
---